A time passes, Courtney Clenney net worth continues to increase. She widely recognized as a prominent American model, Instagram influencer and murderer. Courtney has carved out her own niche in the world of glamour and fame. Her dynamic personality in various commercials, music videos and movies.
That coupled with her explicit content on OnlyFans, has contributed significantly to her popularity. Courtney Clenney's net worth is estimated to be around $3 million as of 2023. Keep reading to explore the highs, the lows, and the controversies that have marked her path.
Early Life: The Genesis of a Star
Born as Courtney Tailor on April 21, 1996, in the vibrant city of Midland, Texas, Courtney's artistic inclinations began to surface at only 13 years old. This interest inspired her to take singing lessons, dancing classes and acting workshops. These were all laying the foundation for her future career in the entertainment industry.
The Big Break: Launching a Career in Entertainment
Courtney Clenney chose to forgo further formal education after high school to focus on making a name for herself in the industry. She successfully landed supporting roles in acclaimed films such as "Everybody Wants Some!" and "Boyhood".
Courtney also made a significant impact appearing in commercials and music videos, notably making a cameo in Bebe Rexha and G-Eazy's music video for "Me, Myself, and I."
The Rising Star: Embracing the Role of Social Media Influencer
Courtney's journey took an exciting turn when she moved to Los Angeles, a city known for its dynamic entertainment scene. She got certified as a personal trainer and began endorsing brands including EHPlabs and Manscaped.
Simultaneously, she embarked on a modeling career on the social media platform Instagram. Courtney rapidly amassed a following of over 2 million ardent fans.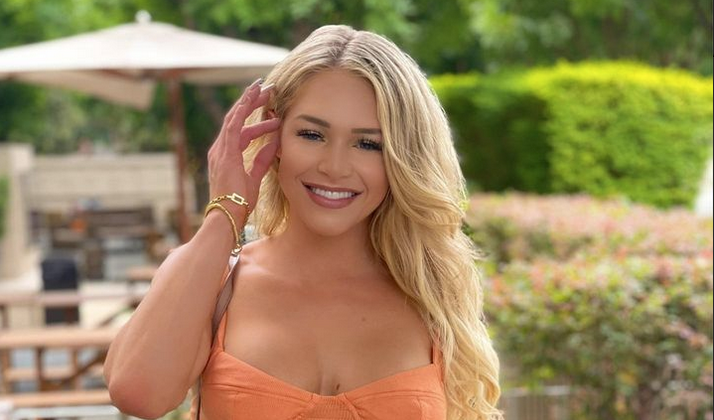 A Bold Move: Venturing into OnlyFans
Seizing the opportunities presented by the digital age, Courtney Clenney decided to venture into the world of OnlyFans. This platform, known for its explicit adult content, provided her with a new avenue to connect directly with her fans and followers.
Despite the controversies associated with the platform, Courtney's bold move paid off, contributing significantly to her rising fame and fortune.
Murder Controversy
April 6, 2022 was date that changed everything. Courtney Clenney's life took a tragic turn. After making a frantic call to 911, authorities found Courtney Clenney covered in blood. This along with Christian Obumseli, her now deceased boyfriend severely injured from a stab wound.
Ignoring immediate medical attention, Christian lost the fight to his fatal injuries, leading to Courtney being charged with second-degree murder.
Past Struggles: A Glimpse into a Troubled Life
Courtney Clenney's life has not been without its fair share of struggles. Before her involvement in the murder case, she battled post-traumatic stress disorder and substance abuse.
Additionally, prosecutors and witnesses have claimed a track record of physical violence in her relationship with Christian Obumseli,. This further painting a complex picture of a her troubled past.
A Look at Courtney Clenney Net Worth
Despite the controversies and personal struggles, Courtney Clenney's net worth stands as a testament to her talent and enterprise. As of 2023, her net worth is estimated to be around $3 million.
This substantial fortune is largely due to her successful career in modeling, brand endorsements, and her ventures on OnlyFans.
FAQs About Courtney Clenney
What is Courtney Clenney's Net Worth?
As of 2023, Courtney Clenney's net worth is estimated to be around $3 million.
How Old is Courtney Clenney?
Courtney Clenney, born on April 21, 1996, is currently 26 years old.
What Led to Courtney Clenney's Legal Battle?
Courtney Clenney was accused of second-degree murder following the tragic incident involving her boyfriend, Christian Obumseli.
How Did Courtney Clenney Rise to Fame?
Courtney Clenney rose to fame through her modeling work, brand endorsements, and activities on OnlyFans.
What is the Source of Courtney Clenney's Net Worth?
Courtney Clenney's net worth is mainly derived from her work in modeling, brand endorsements, and her ventures on the platform OnlyFans.
The journey of Courtney Clenney, from her early beginnings in Texas to her current status as a controversial figure in the entertainment industry, is a compelling narrative filled with highs and lows.
Controversies and legal battles aside, Courtney Clenney's net worth remains a testament to her talent, hard work, and entrepreneurial spirit.